Leading Concrete Suppliers
Spotmix Ayrshire are Ayrshire's leading supplier of Ready mix concrete and ready mixed flooring screeds. All ready mix concrete is delivered on time and poured on site to the customer's specification. Spotmix Ayrshire use the latest technology in volumetric concrete mixers. Based in Ayrshire ideally situated for Ayrshire and the Central Belt of Scotland, leading ready mix concrete delivered to the customers location.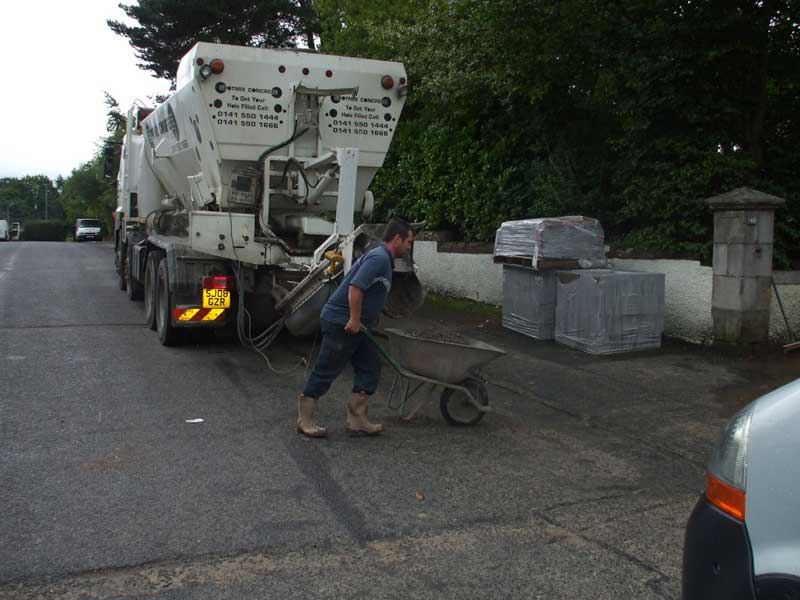 Wheel Barrowing Service
Spotmix Ayrshire offer a ready mix concrete wheel barrowing service with ready-mix concrete deliveries, the cement mixer driver and labourer will wheel barrow the concrete from the rear of the concrete truck to a maximum distance of 30 meters within reasonable flat level ground. Spotmix Ayrshire supply their own large concrete wheel barrows and ensure there is minimal mess left behind once the delivery is complete.
Ready Mix Concrete
Spotmix Ayrshire supply ready mix concrete for DIY concrete projects including garage bases, concrete patios, garden paths to commercial building sites, house builders, concrete driveway suppliers and many small to medium business projects that require accurate on time ready mix concrete. No job is too large or too small. Spotmix Ayrshire's fleet of volumetric concrete mixers staff are highly trained and communicate one on one with the end use customer to make sure that concrete pouring is precise and to the customer's requirements.
The company have been established since 1991 and are one of the longest established concrete companies in Scotland. Spotmix care about customers needs and believe this is what separates them from the rest and being the best.